What to Expect
Your treatment is a whole body focus and will adapt and change as you do. While your personal journey may vary, you can also expect:
Creativity – I meet you and your body where you are with  individualized care. Experience freedom, flexibility and pleasure in moving your body, in food choices and learning how to understand what your body needs and wants. I help you to become aware of the signals your body is sending and how to interpret them.
Advanced Knowledge  – Gain the skills to navigate your way through the ever-changing world of wellness and improve your overall health long term.  I use a combination of skilled clinical and orthopedic techniques utilizing assessments, manual therapy, therapeutic and functional strength exercises, inflammation and nutritional intervention to help you achieve optimal health and wellness results.
Support and accountability – Experience a balanced, enjoyable approach to creating a lifestyle of true health and not just a short-term health fad. Let self care become your new healthcare.
Consistency – I create an environment that helps you eliminate any excuses for not improving your health.
Working to be pain free – I work with you to improve your breathing patterns and reeducating your muscles to find your optimal postural alignment and movement alignment so you can sit, move and play pain-free.
Highly effective movement and nutrition strategies – Learn the most up to date information and strategies for using breath, meditation, movement and nutrition to improve your overall health and wellness.  I help you overcome your biggest obstacles so movement and nutrition become a priority.
Motivation and Inspiration – Receive tips and strategies for developing a healthy lifestyle placing a high priority on mindset, movement, education and nutrition. Gain excitement and enthusiasm about creating your new healthy lifestyle while building long-lasting habits.
Gain Confidence – You will gain the confidence that you are on the right track, creating long lasting health and wellness.
Measure and track your progress – This not only helps you to stay the course, it also helps you to see what you have overcome.  Gain the ability to understand what your body needs by tracking how you feel with food and movement helps you to course correct when necessary and create a program you enjoy.
Results! – Although I cannot be with you 24/7. I know that if you are willing to dedicate yourself 100% and following my recommendations, applying them daily, weekly, monthly and sticking with it, you will feel and see the results of creating long-term success.
My Education
Bachelor of Science in Health and Exercise Sciences, Broadview University
Associate of Arts in Business Management, Everest College
Licensed Massage Therapist, Myotherapy College of Utah
Certifications
Instrument Assisted Soft Tissue Mobilization – Basic and Advanced
– Rocktape
Kinesiology Taping – Basic and Performance
– Rocktape
Whole Food Plant Based Nutrition
– eCornell University
Corrective Exercise Specialist (In progress)
– The Biomechanics Method
Certified Barre Instructor (In progress)
– International Ballet Barre Fitness Association
Certified Visceral Techniques Practitioner (in progress)
Yoga and Well-Being Coach (in progress)
– Center for Well-Being
Continuing Education
Align and Define
EXSpeed Training
Functional Training and Assessment
Myofascial Release
Practical applications of Manual Lymphatic Drainage
Somatics
Techniques in Myofascial Massage
TuiNa: The Body Method of Ancient China
Zumba Fitness
My Philosophy
Your pain is as unique as you are. Pain is a whole body experience. When you are in constant pain it is easy to become comfortably miserable. It starts by ignoring the small whisperings of discomfort. Soon, before you know it, you don't even recognize your body. A body that is in pain. This results in a variety of layers to work through to bring your body back into balance and alignment.
You are not just a body part in pain, with dysfunction or injury. I see you as a whole person. You have a rich history of movements, patterns, behaviors and habits that are sprinkled with small insults to your body. These show up in your body as discomfort.  Discomfort causes dysfunction. Dysfunction causes pain and can create disease. Understanding the hows and whys of your pain pattern is as important as getting out of pain.  I show you how to change your trajectory while navigating your way back to health and wellness.
Wellness is not something that can be obtained. Wellness is a dynamic relationship with your body, food and the stresses we experience on a daily basis. Transformation can be and is often tricky. This is why doing your "homework" between each of our sessions is so important. When you do the work, you improve your outcome. And you continue on your journey towards enhanced awareness and transformation. Consistency is the key to long lasting change.
Developing a Warrior Mentality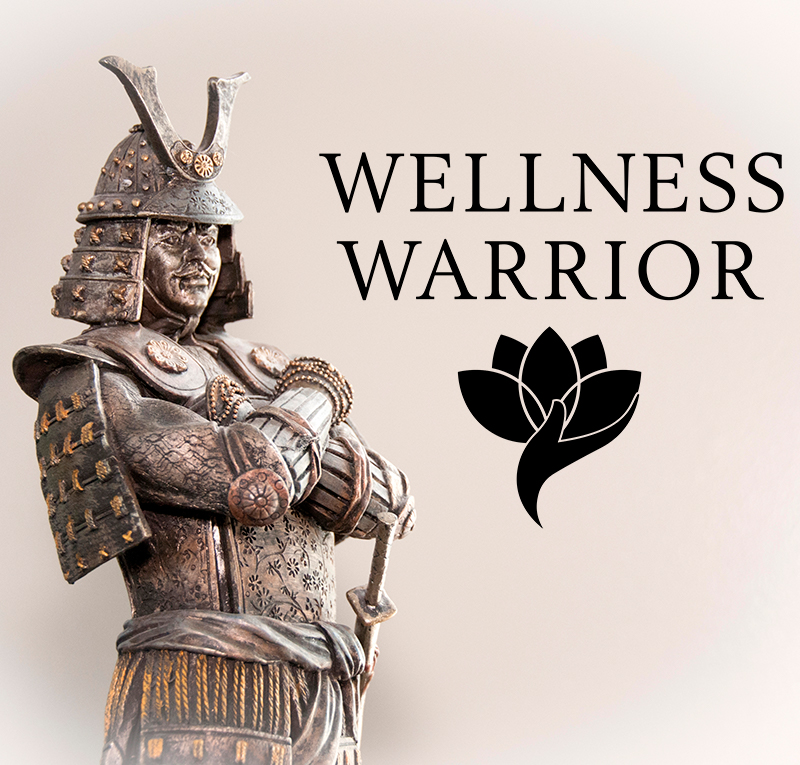 You cannot improve your wellness with the same thoughts and actions that diminished it. Therefore, you must develop a warrior mentality. Warriors are not constantly at war. However, they are constantly practicing and preparing. Warriors are persistent and vigilant in their pursuits. Always at the ready to take action.
We work together to help you identify and overcome your challenges – physically, mentally and nutritionally, while helping you to improve your health and wellness. Creating your body by design.